← writing
Speech: Open source use in the arts
October 25, 2016
In 2016, as a member of the judging panel, I presented the award for Open Source Use in the Arts at the 2016 New Zealand Open Source Awards. This is the speech I gave.
-
Making Open Source Art isn't simply about using Open Source tools and licenses in art projects, it means a change of mindset from All Rights Reserved to Some Rights Reserved.
The arts is one of those sectors that tends to be permission based, but letting go of romantic ideas of originality and exclusivity, can help art flourish, spread, and evolve into new forms.
Projects like the ones nominated are challenging these traditional ideas of ownership: expanding our understanding of where the true value of art lies, and showing us new and engaging Open Source ideas that contribute positively to global society.
This award recognises a New Zealand art project that has made an outstanding contribution to the promotion of free and open source philosophy. And the finalists are:
The Make/Use Team, Massey University for Make/Use: User Modifiable Zero Waste Fashion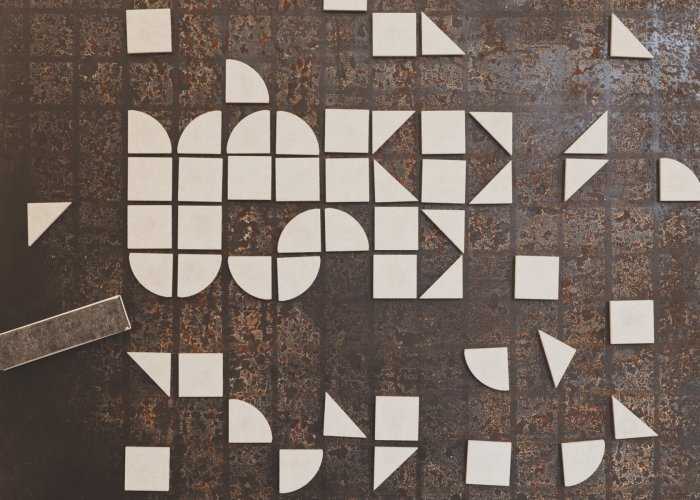 Make Use typeface designed by Jo Bailey & Thomas Le Bas. CC-BY 4.0
Despite its impact in the world, fashion is conventionally a very insular industry. Designs are not easily protected by law, so to stay profitable the industry rapidly makes garments stylistically obsolete. Little is shared, and few garments have any longevity. As a result, the fashion and textile industry is the second largest polluter on the planet. Garment manufacturing alone produces more than 164 million square metres of textile waste every day. Some of this is due to inefficient pattern design where 15% of fabric is wasted as offcuts. Make/Use seeks to combat this problem.
Make/Use is an open source system for making user-modifiable, zero waste garments.
Zero waste garments are what they sound like: where, through clever pattern design, 100% of the fabric required to make the garment is used in it's production, so there's no waste. The garments can also be modified or re-made into new garments requiring the same fabric area.
All of the components and tools for each of the Make/Use garments are available online under a Creative Commons Attribution license, including digital files suitable for customisation, print files for paper patterns or printing direct to textiles, template files suitable for printing or laser cutting, and even a specially designed Make/Use typeface.
Museum of New Zealand Te Papa Tongarewa for the Website and Online Services Project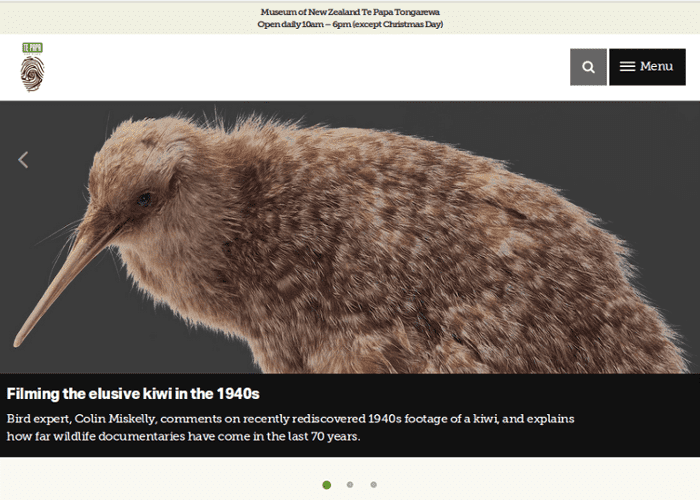 tepapa.govt.nz website screenshot
Te Papa, of course, holds a major collection of artworks, many of these by New Zealand artists. Due to their long-duration exhibition format, the majority of these works remain hidden from public view. As one way of trying to mitigate this issue, Te Papa devised a long-term Digital Online Strategy, which has less emphasis on physical exhibits and more focus on making Te Papa's collections available online and accessible on multiple platforms.
This included a significant overhaul of the website tepapa.govt.nz, with a refresh of the information architecture – done primarily using Open Source tools, including AWS for the infrastructure and Drupal 7 as the application platform.
The team used a combination of user contributed and customised Drupal modules, contributing code improvements back to the existing modules. The project developed a search mechanism using ElasticSearch in order to interrogate and index a large number of internal and informal repositories within Te Papa, and in true Open Source style, this search mechanism is now being used by ElasticSearch for their content sites.
The resulting site signifies a genuine effort by New Zealand's National Museum to make their collections accessible, while supporting Open Source software projects.
Julian Oliver for Public Patch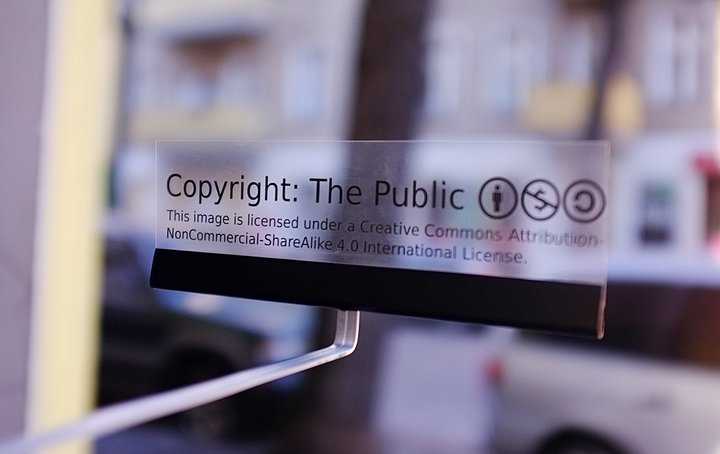 The Public Patch in action. Photo: Crystelle Vu
Public Patch is a simple modification to surveillance cameras in public space, that embeds Creative Commons copyright terms in all captured video. Quite literally, the patch is a small printed sign that sits in front of security cameras, so that any footage recorded by the camera includes the Creative Commons Attribution-Non Commercial-Share Alike license.
The patch is a simple device that can be made in a few hours using under $10 of materials including a plastic paper clip, two rubber bands, printed overhead-projector paper and a strip of aluminium. This artwork suggests that all passive security footage of public space should be an open source resource, presenting the public with a concept they can apply to their own surroundings to test this assertion.
julianoliver.com/output/public-patch
Caroline McQuarrie for The No Town Project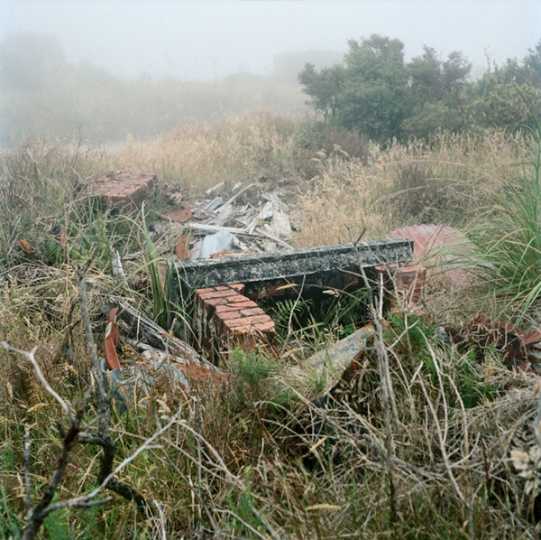 Remains of private residence, Denniston, January 2013. Photo: Caroline McQuarrie. CC-BY-NC-ND 4.0
Early settlers on the West Coast of the South Island of New Zealand battled the environment they found themselves in, building communities on a strip of land that was difficult to get to, and difficult to remain in. Unfortunately, as resources dwindled many of these communities faded away. The West Coast now is littered with town sites that are either deserted, or have substantially diminished communities. The No Town Project is an art project and photographic archive that records these towns, which are little known by many New Zealanders.
The project grew out of an exhibition that toured to multiple galleries across New Zealand. In order to both enable a wider audience to view the photographs, and to give other photographers an opportunity to contribute their own images to the site, Caroline McQuarrie created the No Town website using the Open Source application 'Indexhibit', and licensing images on the site under a Creative Commons Attribution-Non Commercial-No Derivatives license.
Caroline's project and photographs are extraordinary, and the value of this project has been recognised by the National Library of New Zealand who've selected it for ongoing web harvesting.
–
And the winner was: Make/Use. Congratulations to all the finalists!
Background image: Adrian Kingston